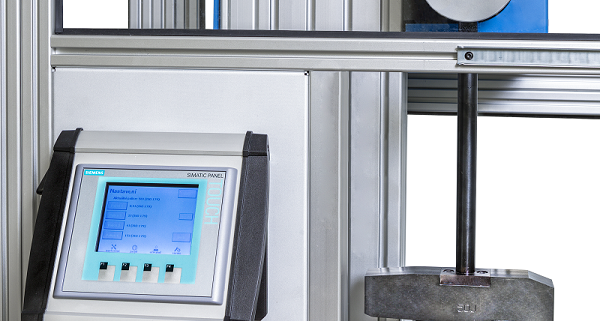 We modified our Charpy hammer
LabTest CHK 50J – D
We are expanding our portfolio of impact hammers!
As part of the expansion of the portfolio of impact so-called Charpy hammers LabTest CHK.1 up to 50 J, we have modified our standard equipment and created a new machine version LabTest CHK 50 J – D, which is a digitized variation of its predecessors. The LabTest CHK 50 J – D device has a number of innovations suitable for simple and fast operation of the machine, suitable both for the non-stop production or for random laboratory testing:
Easy replacement of the test pendulum hammer by loosening one screw from the axis of rotation.
Carbon reinforcement and lighter version of testing arms.
Sliding protective cover.
Automatic pendulum locking system.
Possibility of adjusting the three positions of the default angle.
Automated centering system of the specimen.
The testing process is ensured by the SIMATIC PLC control system with a touch screen.
Charpy impact hammers of the CHK series. 1 in a table design with a nominal energy of up to 50 J are, thanks to their accuracy, ergonomics and originality, a world leader in the field of impact testing. All our Pendulum Impact Hammers are modularly designed so that, at the customer's additional request, they can be easily and quickly expanded with a superstructure system, either in the form of instrumentation or full automation using the Blue Runner robotic system.Pendulum impact hammer can be supplemented directly with the entire TCR test center to comprehensively ensure the measurement of notched toughness, namely the optical inspection of the OPTOLab 55 II sample and the VRE notching device for the formation of U and V notches. In our product portfolio you will also find Charpy Impact Hammers with an integrated touch LCD monitor with a full-fledged PC, including IMPACTTest software.
Do you want to learn more about our Pendulum impact hammers or are you interested in purchasing one of our devices? Contact us, our salesmen will be happy to advise you or possibly propose a solution according to your requirements …
LABORTECH TEAM
https://www.labortech.cz/wp-content/uploads/2020/07/final4.png
710
600
labortech
/wp-content/uploads/2018/06/logo_web2.jpg
labortech
2020-07-13 15:00:52
2020-07-15 08:27:15
Pendulum impact hammers LabTest CHK 50 J II. generation!